Garlock 3-D Seal
Cartridge design, high mis-alignment seal
Combining Garlock's proven PS-SEAL® and expansion joint technologies into a single solution.
A seal that leads the industry solving applications plagued with high misalignment and run out.
Typically used on agitators and mixers.
Wide range of available materials makes it possible to configure this seal to fit a virtually endless array of applications.
Each seal is custom designed to an individual application, allowing Garlock to minimize the difficulty of retrofitting the equipment >> increases value and further minimizes the total cost of ownership.
Main Segments

Food & Beverage
Chemical Processing
Applications
Mixers
Vacuum Pans
Agitators
Decanters
Separators
Key Benefits
Provides excellent sealing ability, while mitigating extreme shaft movement
Multi-lip design allows for various sealing stages and configurations (pressure/vacuum)
Can be tailored to each unique application
Standard Materials of Construction

316SS housing/sleeve
Chrome oxide sleeve coating
PTFE expansion joint
Lip materials in GYLON® quality
Features¹
Temperature:
150 °C
Pressure:
up to 10 bar
Dry running capability:
up to 15 m/s
Vacuum:
full vacuum
Movement capability:

25 mm total indicated runout (TIR)

25 mm total axial movement (TAM)
1) depending on product and application details
"Garlock 3-D Seal has significantly reduced maintenance time. The sealing system has been running to more than 1 year without any adjustment. We are now also able to control the vacuum pressure reliably and consistently. We are so satisfied with the result, we are now converting the remainder of their crystallizers (5 x units) to use the 3-D seal."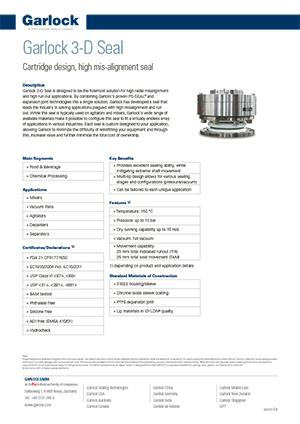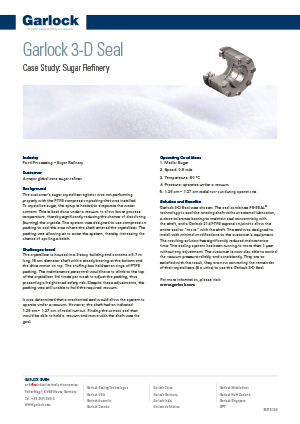 How to find us
Garlock GmbH
Falkenweg 1
41468 Neuss
GERMANY
Contact

+49 2131 349-401

garlockgmbh@garlock.com